Versatile audio file editing features Audacity is a powerful audio editor that lets you play, import, export, and save a variety of file formats, including WAV, AIFF, and MP3. The featured software is open source and free to use. With this tool, you can even edit audio files, mix multiple tracks, apply effects to audio recordings, and more to create all kinds of music. With this audio editing software, you can also enjoy features like customizable spectrogram mode, frequency analysis, amplitude envelope editor, bass booster, VST plugin effects, noise reduction, wahwah, etc. Easy to use, free and open source, Audacity is an excellent audio editing tool for Microsoft Windows computers. If you are new to audio editing, this is a great option. Perfect for anyone starting out in podcasting or recording music. The popular audio editor has a simple interface, so you can learn from scratch without much trouble. Being a lightweight program that won't slow down your computer and working in open source software development, Audacity has managed to build a large community. That's why you can browse tons of information, insights, and tips to learn everything you need to know about audio editing. In addition, despite being a free program, it has a wide range of functions, which in part corresponds to an expensive software tool like Adobe. What can you do with Audacity? The Windows version of the software is simple and easy to use. It has a clean user interface that lists all the features in preset menus. Whether you are a beginner or an experienced audio editor, Audacity is not overwhelming. With the help of an available wizard, you can learn the tricks of the trade. With a simple layout and format, the audio editing software makes it easy to add files (audio or songs) to the program by opening existing downloads on your computer or by using a microphone to record a new song.
You can also import files directly from the mixer. This feature is very useful for professional artists and DJs. Each file looks like a waveform that clearly represents the different elements of the song. Audacity allows you to combine multiple files to create music. However, you can also edit each file individually or work with several topics at the same time in different windows.
It is easier to work with audio files in Audacity compared to Lexis Audio Editor and WavePad. All buttons including play, pause, previous, forward, record and stop appear as big icons. Just like with a recorder, you can easily create and listen to songs. You can draw a line on the waveform to listen to a specific part of the file.
The program has a trim tool that allows you to remove specific parts from the file. Similarly, the paste tool can be used to paste multiple clips or sections into a track. As mentioned earlier, you can use the mixing function and also use it to mix different songs to create amazing combinations with music.
Once you download Audacity, you can manipulate audio files with many effects and fade options. The software has built-in equalizer and multiple distortion settings, giving you great control over your mix. Unlike most free audio mixing software, Audacity has an Auto Duck feature that lets youset a feature that lowers the volume of a specific song while it is playing. This is a powerful feature for recording podcasts, which usually have a mix of live audio and background music.
With KoosAudacity, you can easily rewind songs or audio clips, play them with volume controls, cut silence, and set timers for recordings. The Audio Editor lets you layer one layer on top of another, making mixing easier. Unfortunately, there are still bugs in the software that can cause frequent delays with large files.
Does Audacity support plugins and microphones? Audacity allows you to record your computer's microphone with playback options. For high quality audio, sampling rates can reach up to 192,000 Hz. When recording audio, level meters automatically monitor sound levels to detect specific problems. The audio editing software also supports 24-bit audio recording.
Although Audacity is a powerful tool, there are several plugins that you can use to increase functionality. For example, the app integrates well with other apps to add new effects. With this program you can work with all kinds of audio projects. If you create music, podcasts, or just want to record audio, Audacity is a great choice.
Does Audacity support multiple file formats? Compared to MixPad's multi-track recording software, Audacity supports various file formats including OGG, FLAC, MP3, WAV, AIFF, MP2 and more. In fact, some plugins may offer support for additional file formats like MP4, M4A, and AC3. Besides importing specific file formats, Audacity can also be used to convert file types.
After importing the file into the audio editor, you can also customize various filters and effects. You can eliminate hissing, buzzing and other annoying noises. This tool is perfect for creating high-quality and free recording environments.
Finally, Audacity easily adjusts frequency and notch filter effects, high/low pass, sync, and treble/bass effects. In addition, you can easily adjust the volume with the compressor. In addition, there are other useful features such as gain, fade in/out, customizable fade in effect and format.
A great audio editor for your PC. The latest version of Audacity includes various features for Microsoft (10 and 11) Windows. The simple interface of the program allows even beginners to work with mixes and audio files. Since the program supports various file formats, you can create beautiful music with precision. Overall, this audio editing software does not disappoint.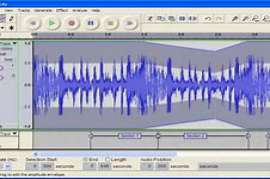 30
5 Torrent vote
Audacity Free Download Torrent
Audacity x64 x86 torrent
053de